Barcelona, France & italian riviera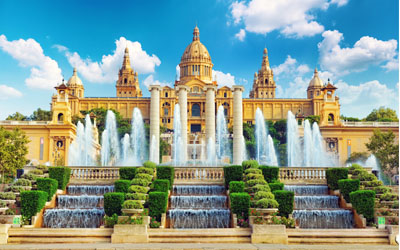 Bienvenido a España! Arrival at Barcelona – El Prat Airport. Meet your driver and tour escort. Drive to Plaça d'Espanya for an first acquaintance with this marvelous city and to visit Montjuïc Hill. Admire the two Venetian towers at the square, the major fountain 'Font Magica', and the impressive Royal Palace 'Palau Royal' which  is the gateway to Montjuïc. The Green Montjuïc is Barcelona's most famous hill. In connection with the 1929 World's Fair in Barcelona, palaces, pavilions, parks, botanical gardens, sports stadiums and exhibition spaces were built here. Some of those buildings have been preserved and are museums nowadays. The sports stadiums were renovated and others were added for the 1992 Olympics. Afterwards you will drive up to Mirador l'Alcade Park for great views of Barcelona. Check in at the hotel and have some time to relax before dinner. Enjoy a welcome – Tapas dinner tonight.
Overnight in Barcelona.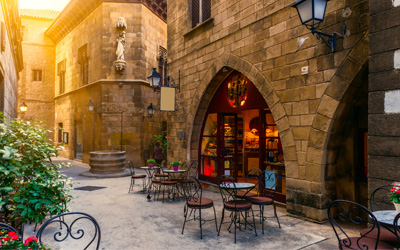 Following breakfast, enjoy a guided walking tour of Barcelona's Gothic Quarter, the Barrio Gótic. This part of the city dates from Medieval times, featuring narrow winding roads and impressive architecture. You will see the highlights of the Barrio Gótic such as Barcelona's Cathedral, the political hub of Placa Sant Jaume, and some of Barcelona's best preserved stretches of the Roman walls. After some leisurely time in the Old Town you will travel to El Poble Espanyol, Catalan for Spanish village. In the open-air museum you will discover different Spanish buildings and architectural styles. The village was created on the occasion of the World Fair in 1929. There are no fewer than 117 replicas of existing buildings to admire and almost every Spanish region and particular style is represented. Enjoy your dinner in the Poble Espanyol this evening.
Overnight in Barcelona.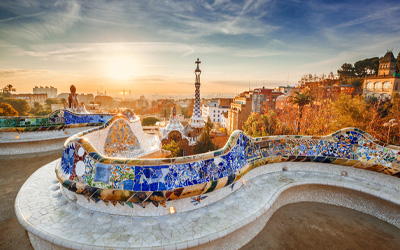 Today is a real 'Gaudí day' on which you will see the best of Gaudí's main creations. Antoni Gaudí was one of Barcelona's greatest modernist architects and his unique architectural style is highly respected around the world. Start the day with a guided visit of the Sagrada Familia, Antoni Gaudí's unfinished masterpiece. He worked on this ambitious project for decades until his death, and still the basilica remains in constant construction. Following some free time, you will visit Gaudí's Parc Güell. Stroll past playful shaped structures, intricate stonework, and colourful mosaics whilst enjoying the great city views. On your way to Güell Palace you will see two stunning creations of Gaudí, the wave-inspired Casa Batlló, also known as the "House of Bones" and Casa Milà or "La Pedrera". Then you will arrive at Palau (palace) Güell. An expert guide will show you around in this Neo-Gothic mansion is part of the UNESCO World Heritage sites 'Works of Antoni Gaudí'. End this interesting and colourful day at La Rambla, Barcelona's famous tree-lined boulevard. Remainder of the afternoon at leisure. Overnight in Barcelona.
Day 5  Barcelona – Figueres – Perpignan – Carcassonne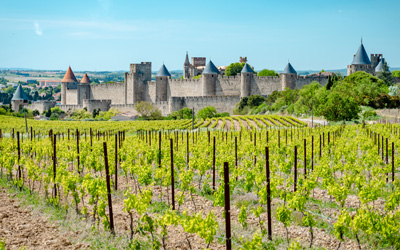 Today you travel from Spain to France. On your way you will have a stop in Figueres for a visit to the Dalí Theatre-Museum, dedicated to and built by Salvador Dalí, the world's most renowned surrealist artist. The museum was erected on the remains of the former municipal theatre of Figueres and is considered to be the last major creation of Salvador Dalí. During the visit you will be drawn them into Dalí's unique and captivating world. Following a joint lunch in Figueres you will travel onwards to France. We will make a stop to stretch our legs in Perpignan, the former capital of the Kingdom of Majorca during the Middle Ages and it once belonged to Spain. Your journey continues to Carcassonne, where you will arrive in the late afternoon. Overnight in Carcassonne.
Day 6  Carcassonne – Avignon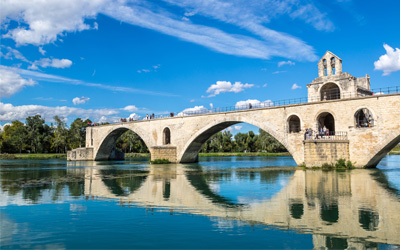 This morning you will visit the Cité de Carcassonne, the UNESCO World Heritage listed walled city is renowned for its city walls, defensive towers, and drawbridges. A local expert guide will show you this Medieval fortress settlement with its 3 kilometres of city walls and 52 towers and a history that exceeds two and a half thousand years. Enjoy leisurely time to explore this stunning and unique city on your own. In the afternoon you will travel to Avignon, once home to the Popes and now a regional cultural center. After arrival enjoy a guided walking tour to see the city's main attractions such as the Pont d'Avignon, the city's famous medieval bridge, the Palais du Papes with its impressive display of 14th-century paintings and tiles, the city walls and many more.
Overnight in Avignon.
Day 7  Avignon – Arles – Les Baux-de-Provence – Saint-Rémy-de-Provence –Avignon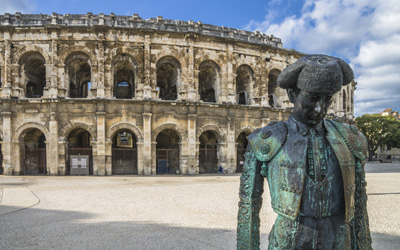 Today will be a full day of exploring the Provence. You will travel to Arles to explore the city's main sights. Arles is packed with treasures from the Roman Era. A local expert guide will show you the Arles Arena which is listed as an UNESCO World Heritage Site. Both Vincent Van Gogh and Pablo Picasso painted the Arena in their paintings, the Theatre Antique, the Cathédrale Saint-Trophime d'Arles, and many more. After the visit of this delightful city you will head for Les Baux-de-Provence, famous for the excavation of limestone. Enjoy a unique multimedia art show in a former quarry at Carrières de Lumières. Continue this wonderful trip to a local farm where olives are grown and wines are being produced. Conclude your visit with a wine and olive oil tasting. Enjoy the view of the unique Provencal countryside as you drive to Saint-Rémy-de-Provence. Here you will visit Saint Paul de Mausolé Monastery. In this beautiful, lavender surrounded, old monastery complex, Vincent van Gogh lived from 1889 to 1890.  Following some free time exploring the quaint Provençal village of Saint-Rémy-de-Provence you will travel back to Avignon. Overnight in Avignon.
Day 8  Avignon – Aix-en-Provence – Grasse – Cannes – Nice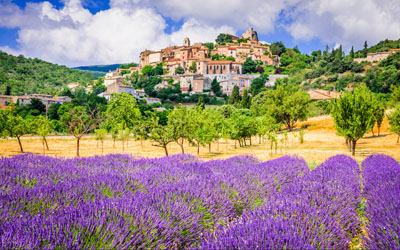 You will travel along the Cote d'Azur to Nice today. On route you will make a stop to stretch your legs in Aix-en-Provence. With its tree-lined streets, and noble mansions, Aix is charming and is best known as the birthplace of Impressionist painter Paul Cezanne. Your journey continues to Grasse, the perfume capital of the world. Following joint lunch you will have a lovely fragrant and interesting visit of the Fragonard Perfume Museum and its distillery. Your next stop at the Cote d'Azur will be Cannes, renowned for its prestigious Cannes Film Festival, Palace La Croisette, and the old town, Le Suquet. Enjoy some free time to soak up the glitz and glamor at Boulevard de la Croisette, before travelling to Nice.
Overnight in Nice.
Day 9  Nice – Monaco – Genoa
This morning you will travel to the principality of Monaco. See the Monaco-Ville, the historic medieval core of Monaco, the eclectically Palais du Prince serving as Monaco's royal palace since the 13th century, the Monaco Cathedral with Roman-Byzantine architecture, the flamboyant Monaco Opera House and the Monte Carlo Casino. Spend some free time in this fascinating city. Afterwards you will be transferred to the train station in Ventimiglia, here you will board the train to Genoa, Italy.  The journey runs mostly along the coast with beautiful scenery over the Ligurian Sea. You will travel via San Remo and Savona to Genoa, where you will arrive at the end of the afternoon. Genoa is a rejuvenated cultural center. The city, building on its rich history as well as looking to the future with contemporary architecture and a redeveloped harbor area. Here you can admire Renaissance, Baroque and Modern architecture. Overnight in Genoa.
Day 10  Genoa – Santa Margherita Ligure – Portovenere – La Spezia area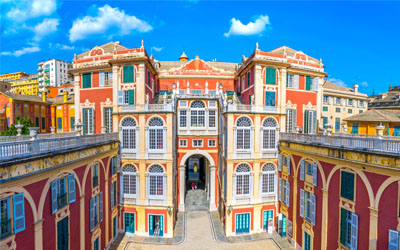 Following breakfast, enjoy a guided walking tour through the historic centre of Genoa, said to be the largest Medieval quarter in Europe. The old town has a wealth of churches and museums. There are more than 100 palaces of Genoese noble families, 'the Palazzi Rolli'. These palaces are authentic masterpieces of the late Renaissance and Baroque period and are added to the list of UNESCO World Heritage Sites. Afterwards you will travel south to the lovely village of Santa Margherita Ligure. The village is surrounded by hills covered with beautiful Mediterranean vegetation and offers a breathtaking view of the Costa dei Delfini. Santa Margherita has a wonderfully relaxed atmosphere. Enjoy the beautiful bay with traditional houses, stately Art Deco buildings, beautiful terraces, and palm and pine trees, reaching to the sea. Your journey continues south. Before checking in at your hotel you will stop in Portovenere, one of the splendid Cinque Terre villages. Wander through the cobbled streets with quaint shops, cozy terraces and cafes. See the Church of San Pietro, it sits on the tip of Portovenere's cape and was once the site of a Temple to Venus. Overnight in La Spezia area.
Day 11  Cinque Terre – La Spezia area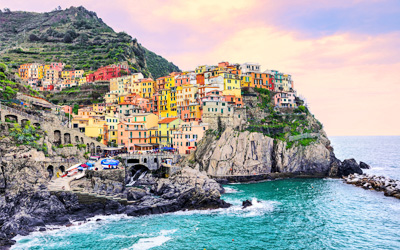 Today you will explore Cinque Terre by train, boat and on foot. The Cinque Terre are five coastal villages in the Region of Liguria. The villages are dotted along eleven miles of sheer rocky coastline with terraced hillsides and vineyards sloping steeply down to the sea. Originally, the villages were accessible only by sea or by mule paths that connected the villages to one another. You will travel by boat from La Spezia to Monterosso al Mare and marvel the unique Cinque Terre villages from the water. You will make stops in the quaint villages Riomaggiore and Vernazza. Soak up the atmosphere of these charming, pastel colored villages with beautiful scenery, little harbors and excellent seafood. The beautiful sitiuated villages of Portovenere and Manarola can be seen from the boat. This mesmerizing day-trip ends in Monterosso, where you will take the train back to La Spezia.
Overnight in La Spezia area.
Day 12  La Spezia area – Pisa – Florence
This morning you will travel via the idyllic Gulf of Poets to Pisa. Upon arrival at the beautiful Square of Miracles – Piazza dei Miracoli, your sight will be captivated by the extraordinary Leaning Tower of Pisa. The tower is the freestanding bell tower of the Pisa Cathedral, known worldwide for its nearly four-degree lean, the result of an unstable foundation. After taking pictures, continue your way to  Florence, birthplace of the Renaissance and home to many of the world's greatest art treasures. Following a joint lunch, enjoy a leisurely walk through the city centre by your tour escort. Remainder of the afternoon at leisure to explore this fascinating city on your own.
Overnight in Florence.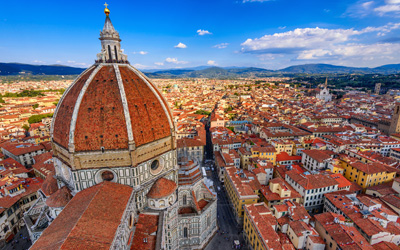 A full day of Florence sightseeing is on the program today. Get carried away by this enchanting city of grandeur. Your local expert guide will show you the highlights of Florence on a guided walking tour. You will see the Piazza del Duomo with a visit to the Baptistery dedicated to Saint John the Baptist. In the historical centre you will stop at the Piazza della Repubblica and the Strozzi Palace. Continue to the city's vibrant and main square, Piazza della Signoria. As you proceed, the impressive Basilica di Santa Croce appears. On your way to the Oltrarno quarter you will cross the river Arno, via the famous and photogenic Ponte Vecchio bridge. In this characteristic neighbourhood , you will see various local craftsmen shops and the beautiful Augustinian Santo Spirito Church and Convent. During this tour you will also visit to the renowned Galleria dell'Accademia to see Michelangelo's famous statue of David. Remainder of the afternoon at leisure. Conclude this wonderful tour with a festive farewell dinner at a local restaurant. Overnight in Florence.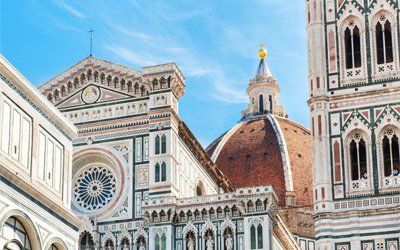 After breakfast departure to Florence Airport for your flight back home.